I've been eager to make this for quite a while. I had learned about it from a podcast a couple of months ago. So I tried it yesterday with some slight alterations. I actually had a frog this morning because I didn't have time for my usual breakfast. And I realized at 11am I hadn't even thought about food.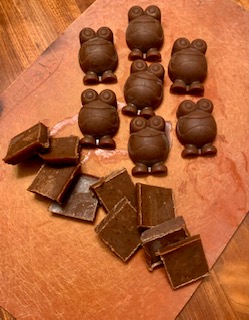 I really like this idea because it doesn't have anything fake in it. No alcohol sugars or stevia in this. Just a hint of honey.
This is keto fudge.
What is keto?
Products referred to as keto have very little carbs in them to allow people who are following a ketogenic diet, to stay in ketosis. This is when you are burning fat for fuel instead of sugar. The cleanest form of fuel for your body. Your blood sugar stays very stable when you are in ketosis. When your diet is low enough in carbohydrates for a long enough period (generally about 3 days) – your body burns up all it's glycogen, and forces your body to shift into burning fat.
Imagine sugar as the cash in your wallet, glycogen as the money in your bank account, and fat is where you go when you've exhausted your wallet and bank account. But your body will never dip into the fat if you've still got money sitting around somewhere.
So this keto fudge, it's very high in fat, and very low in carbs. And if you eat it, and you're not in ketosis, it will still help to keep your energy and your blood sugar stable. And yes, some of the other ingredients in it also help! I like this because it staves off cravings caused by bigger shifts in blood sugar.
Here is how I made it…
1 cup tahini ( I like organic from Trader Joe's or Whole Foods))
1 cup salted grass fed butter or ghee (Kerrygold)
1/4 cup cacao (always organic if possible)
1/2 tbsp cinnamon
1/2 tbsp honey
1 tsp vanilla
2 tsp fresh Bulletproof coffee grounds (free of mycotoxins)
2 packets of knox gelatin (or organic if you have it – 5 tsp total)
And here are the other things I didn't add, but are part of the original recipe:
1 tbsp turmeric
1/2 tbsp maca
1/8 tsp cayenne
In a small saucepan, melt the butter, and slowly whisk in all other ingredients. After a few minutes, pour into molds, or a pan. And store in the freezer. Cut into smaller pieces so it's easy to choose different portions. I tried both molds and a pan. If you are on the go, you can also keep it in something squeezable (it will get mushy) for a quick snack. A 1 tablespoon serving is about 120 calories.
Give it a try. It will definitely be on my rotation of snacks now!