Pistachios are robust in many nutrients that support healthy brain function.They are a great source of Vitamin B6, which can be quite low in people who have depression. B6 plays a role in energy production and helps the body make the brain chemicals (neurotransmitters) serotonin and norepinephrine that influence mood, and melatonin, which helps regulate the body's internal sleep-wake clock. Pistachios contain the minerals calcium, magnesium, potassium, selenium, and phosphorus. Minerals are necessary for the production of hormones important to emotional well-being. Pistachios also contain carotene and Vitamins A and E, which help protect the body from infection and disease.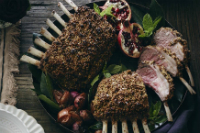 Ingredients
4 Racks of lamb, trimmed
2 t. Herbes de Provence
2 T. Melted coconut oil *or ghee
1 1/4 Cup chopped unsalted pistachio nuts
2 T. Melted coconut oil *or ghee
2 t. Olive oil
6 T. Dijon mustard
Salt and ground black pepper to taste
Preparation
Preheat oven to 400 °F (200 °C). Line a baking sheet with aluminum foil. Generously season each rack of lamb with herbes de Provence, salt, and black pepper.
Heat oil in a large skillet over high heat. Place lamb in skillet and cook, browning on all sides, 6 to 8 minutes. Transfer lamb to foil-lined baking sheet; set aside.
Stir pistachios, coconut oil *or ghee, olive oil, and a pinch of salt and black pepper in a bowl.
Spread mustard on the fat-side of each rack of lamb. Pat pistachio mixture on top of mustard.
Bake in the preheated oven until the crust is golden and lamb is pink in the center, 20 to 25 minutes. Transfer to a plate and let rest 10 minutes before slicing.
Consider pairing with steamed veggies and roasted purple potatoes.
Recipe Resource: https://whatsgabycooking.com/pistachio-crusted-rack-of-lamb/
Resources
"Pistachio Nutrition Facts." Accessed December 13, 2017: https://www.nutrition-and-you.com/pistachio.html
"Nuts and Seeds as sources of Alpha and Gamma Tocopherols." Accessed December 14, 2017: https://www.ars.usda.gov/ARSUserFiles/80400525/Articles/AICR06_NutSeed.pdf
Nuts.com " 5 Surprising Benefits of Pistachios." Accessed December 14, 2017: https://nuts.com/healthy-eating/benefits-of-pistachios
University of Maryland Medical Center Complementary & Alternative Medicine Guide UMM.edu.
"Vitamin B6 (Pyridoxine)" Accessed 15 Dec 2017:
www.umm.edu/health/medical/altmed/supplement/vitamin-b6-pyridoxine
Photo Credit: Matt Armendariz