It's sweet. It's nutty. And it's oh so good. If you haven't yet had pecan nut butter, you have to give it a try. The key to exceptional nut butter is the quality of the nut.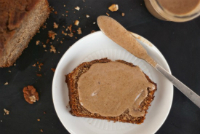 Choose the fresh nuts stored in bulk and rotated frequently. Refrigerated, organic nuts are ideal. Toasted pecans blended with a food processor turn out scrumptiously smooth with maple undertones, without any added oil. A pinch of salt and a dash of cinnamon enrich the flavor. Try it on your favorite breakfast bread or whole grain crackers, or smooth pecan butter over sliced apple.
Ingredients
8 ounces (about 2 cups) high quality pecans, either whole or in pieces
Sea salt, to taste
Dash of ground cinnamon (optional)
Instructions
Pour the pecans into a large skillet and toast, stirring often, over medium heat until fragrant (don't let them burn!). This will take about 4 to 8 minutes.
Pour the toasted pecans into a food processor or high-speed blender and let them cool for several minutes. Then blend the pecans, pausing often to scrape down the sides with a spatula. The mixture will be crumbly at first, but will eventually blend into super-creamy goodness. Be careful not to let the mixture get too hot, which seems to cause oil separation. You might have to stop and let the mixture/machine cool down for a bit just to be safe. The amount of blending time required depends on your machine- an older food processor might take ten to fifteen minutes to turn the pecans into pecan butter, while fancy Blendtec or Vitamix blenders can turn it into butter in a minute or two.
Add a pinch of sea salt and a dash of cinnamon (if using). Blend again, taste, and add more salt or cinnamon if needed.
Pour into a small jar, seal it with a lid, and store it in the refrigerator for good measure. This pecan butter will keep well, refrigerated, for up to one month or so-obviously, don't eat it if you see or smell any signs that it has gone bad.
Recipe yields 1 cup.
Recipe Source: Cookie and Kate, https://cookieandkate.com/2012/pecan-butter-recipe/
Photo Credit: cookieandkate.com