Like cures like. That's the concept behind homeopathy, a centuries-old system that stimulates the body's innate healing ability. In 1796, Samuel Hahnemann, M.D. observed that Cinchona Bark, a medicinal plant used by native people in South America to treat malaria, could also cause the symptoms of malaria in healthy people. After testing the theory on himself, he continued his research, establishing the "dynamic" effect of a homeopathic substance: The less potent the disease-causing agent in the remedy, the better it stimulated the healing process and with fewer side effects.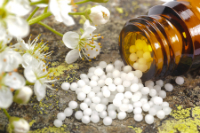 Whether you have an acute illness, such as a cold or flu, or a chronic illness, such as thyroid disease, homeopathy can play an essential role in your wellness. Within the homeopathic model, as in most holistic approaches to health, illness is believed to be caused by imbalance within a person. Employing the system of "like cures like" — often along with other therapies — balance is restored; the body begins to function as it should and the symptoms of disease go away.
A homeopathic physician will conduct an extensive interview with a patient, identify potential remedies, and closely monitor a patient's progress until the person is well. During treatment, symptoms may come and go as the body heals. While it's a very safe therapy, it's important to work with a practitioner who has been fully trained in order to achieve the best results possible.
Resources
Cody, G.W. & Hascall, H., "The History of Naturopathic Medicine: The Emergence and Evolution of an American School of Healing" in Pizzorno, J.E. & Murray, M. T. Textbook of Natural Medicine (2013). p. 37.
Lange, A. & Gaylord, S.A., "Homeopathy" in Pizzorno, J.E. & Murray, M. T. Textbook of Natural Medicine (2013). p. 314-323.