Most people know very little about the quality of the water they use. Even those of us who recognize the potential health risks in tap water often choose cost-effectiveness and convenience over superior quality. Searching for information about your local water quality and how to improve it can make you feel like you're in chemistry class! Here's a primer on why you should filter water and types of filtering systems.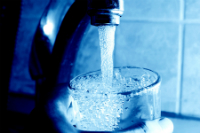 Why Filter Your Water?
Over 2100 known toxins may be present in drinking water, which increases your risk for illness and affects the taste and smell of water. Better tasting, better smelling, and healthier water is what you get when you filter out chemical (e.g., chlorine/ lead) and bacterial contaminants from the water you drink or use for bathing. This also reduces the risk of rectal, colon and bladder cancer, as well as gastrointestinal and autoimmune illness. The EPA recognizes the benefit of filtered water for individuals with chronic illness or compromised immune systems.
Ways to Filter Your Water:
Before you purchase any filtration system, learn about the quality of your household water supply by reading your water utility company's "Consumer Confidence Report." By law, all homeowners are to receive this in the mail by July 1 of each year. The report (also found online) details where your drinking water comes from, which contaminants have been found in it, and how contaminant levels compare to national standards. Next, have the water directly supplied to your house sampled and tested by a state-certified lab (also listed online). Together, these two steps will identify the most significant water supply concerns at your residence.
The chemical and/or bacterial contaminants filtered out vary by brand and model of filtering system. Learn as much as possible before purchasing a system for your home or personal use.
Countertop / personal use filters are placed in a pitcher or water bottle. These are inexpensive but typically only filter out lead/chlorine. More intricate systems, such as those used for camping, can filter out some types of bacteria and other contaminants.
Point-of-entry filters are installed at the main water line to your home. Point-of-use filters are affixed to a faucet or showerhead or at the plumbing line below the sink. Depending on the system, these can remove lead and other contaminants.
Ion Exchange Filters (aka Water Softeners) remove dissolved salts and other minerals that create chemically "hard water." These filters soften water by exchanging naturally-forming mineral ions with its own ions to neutralize the harmful effect of mineral build-up in pipes, which alters the quality of your household water.
Granular Carbon/ Carbon Block Filters use a chemical or physical bonding process that pulls contaminants to the surface of the filter. Granular systems are best for removing organic chemicals such as herbicides, pesticides and industrial chemicals. A caveat with granular filters: loose material can form channels that trap water which then escapes proper filtering. Carbon block filters compress the carbon medium, eliminating channeling and providing more precision for filtering a wider range of contaminants.
Reverse Osmosis (RO) Filters force water through a membrane that draws out organic and inorganic contaminants. RO uses three times as much water as is treated but it is most effective in eliminating all disease-causing organisms and most chemical contaminants. Minerals are lost during RO so you must add trace minerals to the water or take a trace mineral supplement.
Alkaline Water Systems. You may be hearing a lot about pH alkaline water systems or bottled alkaline water. This system concentrates mineral content (it does not filter it) and some health scientists propose alkaline water can neutralize acid in the body, which is good for health. A variety of factors have to be considered when looking at the role of alkaline water in maintaining good health or supporting treatment for certain conditions.
Determining which filtering system is best for you depends upon where you live, the size of your home, your family's health concerns, and your budget. Look for a filter that is certified using ANSI/ISF standards, such as NSF International, Underwriters Laboratories, and Water Quality Association). Also look for recommendations from the Environmental Working Group (EWG). Talk with your health practitioner about your local water supply, environmental issues, and personal needs.
Resources
Water Supply Reports and Testing:
Consumer Confidence Report: https://www.epa.gov/ccr
State Water Testing Labs: https://www.epa.gov/dwlabcert/contact-information-certification-programs-and-certified-laboratories-drinking-water
EPA.gov "Water Health Series: Filtration Facts." Accessed 5 Mar 2017: https://www.epa.gov/sites/production/files/2015-11/documents/2005_11_17_faq_fs_healthseries_filtration.pdf
University of Nebraska at Lincoln: "NEB Guide: Drinking Water Treatment- Ion Exchange (Water Softening)" Accessed 24 Mar 2017: http://extensionpublications.unl.edu/assets/pdf/g1491.pdf
WellnessMama.com "Water Filter Options" Accessed 5 Mar 2017: https://wellnessmama.com/8079/water-filter-options/
Science.HowStuffWorks.com "Reverse Osmosis." Accessed 5 Mar 2017: http://science.howstuffworks.com/reverse-osmosis.htm
EWG.org "Finding a Water Filter that Works for You." Envrionemntal Working Group (4 Mar 2013) Accessed 6 Mar 2017: http://www.ewg.org/enviroblog/2013/03/finding-water-filter-works-you
DES.NH.Gov Scientific Fact Sheet: Ion Exchange of Drinking Water. Accessed 24 Mar 2017: https://www.des.nh.gov/organization/commissioner/pip/factsheets/dwgb/documents/dwgb-2-12.pdf
Magro, Massimiliano et al. "Alkaline Water and Longevity: A Murine Study." Evidence-based Complementary and Alternative Medicine : eCAM 2016 (2016): 3084126. Accessed 24 Mar 2017: https://www.ncbi.nlm.nih.gov/pmc/articles/PMC4906185/
REI.com. Water Filters and Purifiers (Camping related): https://www.rei.com/learn/expert-advice/water-treatment-backcountry.html
"Staying Hydrated All year Long." Posted by Ralph Morris, MD, MPH. (7 Mar 2014) Accessed 6 Mar 2017: http://www.waterandhealth.org/staying-hydrated-year-long/
"Water Treatment Fundamentals." Posted by Water Quality & Health Council. (6 Aug 2013). Accessed 6 Mar 2017: http://www.waterandhealth.org/water-treatment-fundamentals/
Water Filtration Glossary of terms: http://www.allaboutwater.org/glossary.html
KidsHealth.org "Why Drinking Water is the Way to Go." Accessed 6 Mar 2017: http://kidshealth.org/en/kids/water.html